November 17, 2022
Terry presented on forests, food, and health and the linkages between the three at the International Symposium for Food Security in Seoul, South Korea. See the complete recording here!
"Dr. Terry Sunderland explores the linkages between forests, trees, nutrition, and health. He investigates the direct contribution of forest foods to rural diets and the connections between forest ecosystem services and the benefits to agricultural production." See the full presentation here!
November 13, 2022
Terry recently presented the keynote speech at the Bamboo and Rattan Congress (BARC) 2022 on historical socio-ecological work on African rattans. For more information, see here!
November 1, 2022
Fiona Feng, a masters student in the Sunderland Lab successfully defended her thesis titled "An Overview of Intercropping Tree/Tea Plantations in China". Congratulations, Fiona!
October 24, 2022
Dr. Sima Fakheran has joined the Sunderland lab from Isfahan University of Technology in Iran. Her research interests include Monitoring Landscape Pattern Change and its Impacts on Biodiversity, Ecological Impacts of Road Networks, Corridor Design, Climate change, and Conservation Planning. She will be contributing to the COLANDS project while at UBC. Read more about Dr. […]
October 19, 2022
"With some 10 million hectares of forest cut down every year and about a third of the world's forested spaces already devastated, deforestation is a vice humanity just can't seem to quit. Forest restoration can encompass a number of different activities. At its simplest, it's planting trees on degraded land. Protecting or enhancing naturally regenerating forests – secondary forests […]
September 6, 2022
"UBC's Public Scholars Initiative (PSI) was launched in 2015 to support UBC doctoral students whose research extended beyond the academy, and beyond traditional disciplinary approaches, to have a tangible impact for the public good through collaborative, action-oriented, and/or creative forms of scholarship in their dissertation work. " A sincere congratulations to Winy on this award! […]
On Monday, August 29th, Joseph successfully defended his master's thesis on multi-stakeholder engagement and cross-sectoral collaboration in integrated landscape approaches in cocoa-forest mosaic landscapes in Southern Ghana. Congratulations to Joseph on this well-deserved milestone!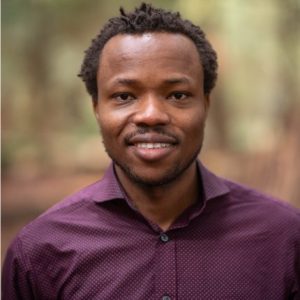 "Sam's research shows how threats in the form of changing beliefs and taboos can lead to the gradual conversion of sacred groves into land used for agricultural and residential purposes, instead. Mistrust and tensions between communities and government, form another treat to what sacred groves can mean for biodiversity. Also, and paradoxically, the success of […]
August 19, 2022
Read about Alida's fieldwork experience working with communities in Kalomo District, Zambia here.