November 3, 2023
"UBC's Public Scholars Initiative (PSI) was launched in 2015 to support UBC doctoral students whose research extended beyond the academy, and beyond traditional disciplinary approaches, to have a tangible impact for the public good through collaborative, action-oriented, and/or creative forms of scholarship in their dissertation work. " A sincere congratulations to Debbie on this award! […]

Sam and Debbie were recently awarded the Mary and David Macaree Fellowship and the Backman Family Graduate Scholarship, respectively. These awards are part of the UBC Internal Awards selected by the Forestry Graduate Scholarship Committee.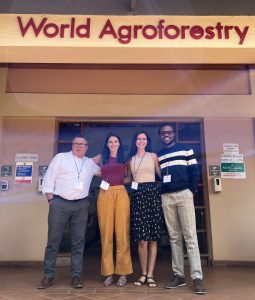 Four members of the Sunderland lab recently traveled to Nairobi, Kenya to present their research at the FLARE annual conference on Forests and Livelihoods. See more about the FLARE annual conference here.
October 1, 2023
Join us at 5 pm in room FSC 1221 on October 5th for Terry's presentation on "Forests, food and a changing climate; What prospects for a sustainable food system?"  Terry Sunderland will explore the linkages between forests, trees nutrition and health based on a decade long programme of work on the topic. He will explore […]
September 27, 2023
September 27, 2023 Congratulations to PhD Candidate Samuel Adeyanju for receiving the prestigious Vanier Canada Graduate Scholarship. Sam's work investigates the effectiveness of livelihood interventions in Northern Ghana's Community Resource Management Areas (CREMAs). Read more about the award here, and more about Sam's work at UBC here!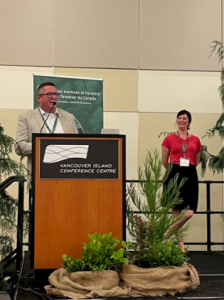 September 26th, 2023 Terry received the 2023 CIF-IFC International Forestry Achievement Award in recognition of his unique and outstanding contributions or achievements in international forestry. "As a world-renowned expert in tropical forestry, Terry's extensive professional contributions in applied research, biodiversity conservation, sustainable resource management, impact and policy influence have greatly contributed to promoting excellence in […]
July 26, 2023
Terry recently published an article in Nature Food on "Wild foods' role in Human diets". The article can be accessed here. "Rural dietary diversity largely depends on farmers' access to wild food and forests. The policy environment on achieving global food security must consider managing multi-functional landscapes for a diverse array of goods and services, […]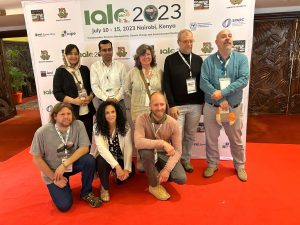 Sima recently presented two symposiums on "Landscape Approaches for Nature Conservation, Development and Sustainability" and "Landscape Ecology for Future of SDGs: A Paradigm Shift to Regenerative Development Goals" at IALE 2023 in Nairobi, Kenya. She also took part in a panel discussion on "Toward Equitable Publishing in Landscape Ecology: identifying barriers and solutions". Sima […]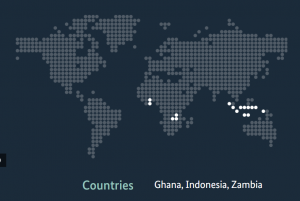 February 8, 2023
The International Climate Initiative (IKI) from the Government of Germany highlighted progress and updates associated with the COLANDS project, including blogs, journal articles, and presentations written and presented by the COLANDS team, which includes many members of the Sunderland Lab. The website provides the following description of the COLANDS project: "This project is using a […]
November 17, 2022
Terry presented on forests, food, and health and the linkages between the three at the International Symposium for Food Security in Seoul, South Korea. See the complete recording here!